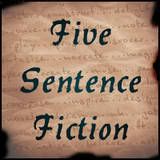 What it's all about:
Five Sentence Fiction is about packing a powerful punch in a tiny fist. Each week I will post a one word inspiration, then anyone wishing to participate will write a five sentence story based on the prompt word. The word does not have to appear in your five sentences, just use it for direction.
This week: RINGING
It's been a while since I joined in with FSF so I'm a bit rusty but it's good to be back.
Sunlight shone through her closed eyelids turned her world into a dappled kaleidoscope of golden dots.
A soft breeze carried the promise of contentment on green scented breath.
The rhythmic slapping of water against wood lulled her with a soothing symphony as she drifted on the outgoing tide.

As an insistent buzzing shattered the calm a slight smile touched the corners of her mouth.

With a seamless motion, eyes still closed she reached down and dropped the phone over the side of the boat.